8 fun office party ideas that HR may just approve of
Your office party has to be awesome. Mediocre parties are a thing of the past and this year your colleagues are going to be talking about the office party for months. Your boss is going to love you! Insta-raise anyone?
But getting your super-amazing party ideas through HR can be tough. After all, they just want to keep everyone safe and protected (with no litigation down the line) and sometimes it can feel like they just want the same-old party every year just to keep sane.
But perhaps, these 10 totally fun party ideas will pass their criteria of being corporate enough, all the while being awesome enough to inspire your colleagues to cannonize you for being the most spectacular party thrower of the decade!
1. Great Gatsby: Roaring 20s office party
Ideal for: Keeping things sparkly
Work it like this: With all guests dressed in their best vintage glamor you can go as extravagant as the 1920s themselves.
Since the release of the award winning film Gatsby last year, companies are enjoying flapper girls, finery and extravagance. Recently, Moët & Chandon hosted a corporate party in New York that enjoyed a festive procession with costumed performers making their way through the crowd holding champagne bottles from 1921 and sparklers.
Serve up a plated dinner and enjoy some old-fashioned glitz and glamor or keep it light with roaming finger foods to keep people out of their chairs and on the dance floor. Keep the music fun and current by including hits from the film (like those from Jay Z and will.i.am) alongside the classics from Scott Joplin.
With that endless flow of champagne this is one evening that will keep your colleagues asking, "who was that mysterious man looking out the window all night" in all the right ways.
2. Murder Mystery – office party idea
Ideal for: A killer corporate party
Work it like this: Hired professional actors roam around your sophisticated soiree, when SUDDENLY… someone falls down dead!
Find whodunnit by investigating clues, interacting with the actors and bribing shady characters for more information. Decipher red herrings from true clues all while getting to know your colleagues and clients better.
This event is chock full of mystery, intrigue and will thrill every guest as they work to solve the murder.
Pro tip: Hire professional actors through companies that specifically offer murder mystery entertainment for the most thrilling (and stress free) experience. Hired actors keep the plot moving to keep the evening from being a bore.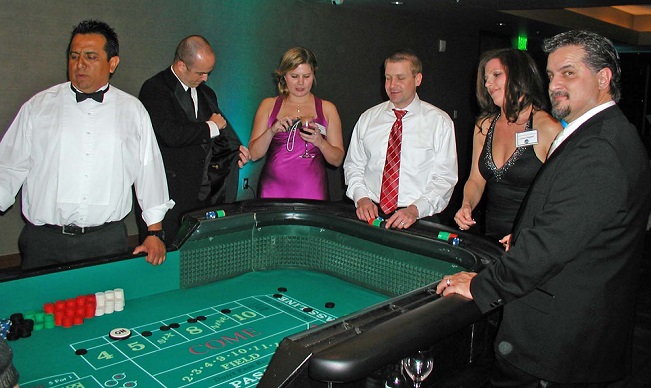 3. Casino Theme
Ideal for: A night of grown-up fun
Work it like this: This casino theme party really is a favorite among corporates- after all who doesn't like gambling?
Excitement and fun is the name of this game- and hiring blackjack dealers, slot machines or roulette tables are all you need to hit the jackpot! It's a high impact evening with a real Vegas feel.
Play with fun money or for raffle depending on your crowd and you'll keep your guests entertained all night long.
What happens in Vegas… can be at your next corporate function!
4. Holiday Tradition Station
Ideal for: Interactive mingling
Work it like this: Capture the festive spirit by combining all the best traditions of the season in one interactive event.
Set up stations featuring activities that families enjoy as traditions throughout the year. Rent an ice skating rink and feature game-show style games in one corner and cookie decorating in another. A hot chocolate bar with all the fixings can keep your guests loose for a game of Twister and ice carving. Hire a psychic for those end of the year fortunes.
Anything goes as long as it gets your guests talking and enjoying the season's festivities!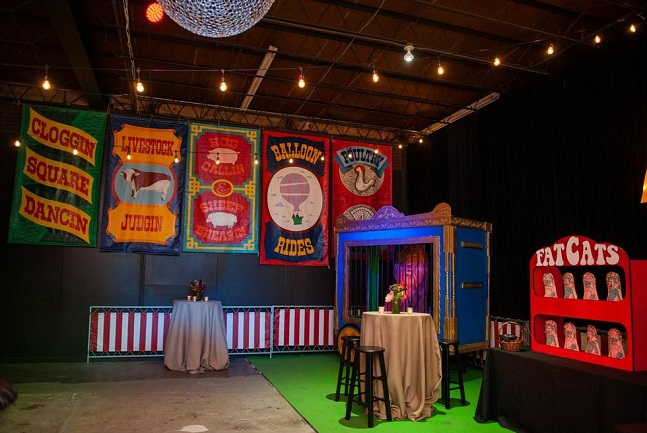 5. Carnival
Ideal for: Having options
Work it like this: Being highly customizable, the carnival experience is a unique company party theme that can morph from a classy production to an interactive event.
Keep the evening "adults only" by inspiring a sexy carnival theme. Encourage formal wear and hire performers to dazzle your guests. Jugglers, magicians, fire breathers - even stage lions and monkeys for live entertainment that will never be forgotten. Serve a plated dinner and "ooh and ahh" throughout the evening.
Or get to know your colleagues and their families through an interactive family friendly carnival. Hire a snake interpreter or tarot card reader with a caricature artist to interact with your guests while they play classic carnival games. Entertain the kids with face painters and cotton candy.
Pro Tip: Moderate budgets can make this theme a tremendous success without breaking the bank. Pros have complete packages to bring the carnival to you at an affordable rate.
6. Suit Up: How I Met Your Mother office party game
Ideal for: Suit Up and Drink Up
Work it like this: Suit up, bros and broettes! Take a page from the Playbook with this legen-(wait for it)- dary party theme.
Have a night of slap bets, stolen french horns and yellow umbrellas. Play lasertag, hang out on the roof or rent out a bar for a night of curly fries and chicken wings while sipping on a fine scotch. Play a few games featuring a pineapple, a life sized Storm trooper and "Have you met…" and you'll be on your way to a gathering that Neil Patrick Harris and Jason Segel would be proud of. True Story.
Place a cut out goat in the bathroom and give out ducky ties for awards or favors. A giant "Intervention" banner can dress up the walls, while awkward Venn diagrams can label the tables. Have a photobooth featuring the New York skyline where the boss cannot take a bad photo.
Double points if the DJ plays "Let's go to the Mall" or "Murder Train" and of course anything from the "Get Psyched" mix. If Moby shows up, you know you went just far enough.
Challenge accepted.
7. College Fever – office party game
Ideal for: Feeling 20 again
Work it like this: Combine all the elements of college partying in one night that you might actually remember.
Encourage some retro fun at this party. Request that all guests come showing off their muscles in sexy toga wraps. Entertainment can range from beer pong to battle shots and a game of "Never have I ever".
Serve up Jungle Punch in red Solo cups and drink from a keg. Dress up the walls with home made posters with the wise rules of college partying like: "No Drama- Violators will be slapped" or "You can retake a class but you can't relive a party!".
Feel free to hand out ivy crowns or a cap and gown for those who really get in the spirit.
Hey, it's college so go with it!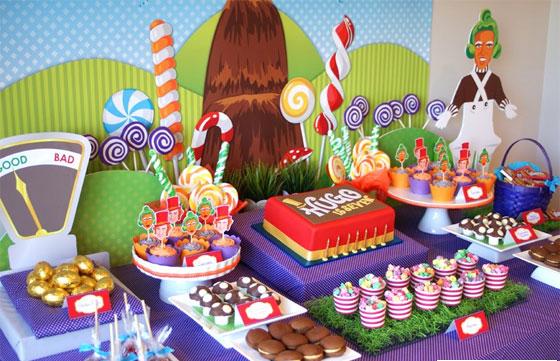 8. Willy Wonka and the Chocolate Factory Holiday Party
Ideal for: Putting on your holiday pounds
Work it like this: The reclusive Willy Wonka, chocolatier and general nutcase, has opened his factory for a tour. Guests are given a gold ticket hidden in Wonka Bars and are set loose in a factory of edible delights!
Performers can be hired to thrill your guests. From Oompa Loopas that cause mischief to interactive characters that serve confectionaries, your guests will "Want it now!"
Food is primary here. Everything that can be edible should be. Allow guests to dip in a chocolate river, create their own concoctions and pluck candies from the trees. Give it a holiday twist by making sure there is lots of candy canes, hot chocolate fountains and holiday sugary treats.
Just be sure to leave all the bad eggs at home!
9. Sports Parties
Ideal for: World Cup celebrations, Olympic years or the Wimbledon tournament
Work it like this: Whether you keep it "all-boys club" with the big screen at the country lodge or project the game on a wall at a family picnic- this theme will engage the whole crowd
Sports parties are great opportunities to drink beer, watch the game and engage in some friendly competition. Try dining on cuisine from the competing countries and play foosball during the Soccer World Cup or table tennis during Wimbledon. For picnics, feel free to add in some fun outdoor family games like balloon toss or touch football.
Decorate using flags, balls and other sports paraphernalia.
Mmm… just smell that astroturf.