The Suggestion box alternative - switch to a smarter way

VETTER OFFERS THE CONVENIENCE, SIMPLICITY AND SPEED OF A TRADITIONAL SUGGESTION BOX PLUS… A WHOLE LOT MORE.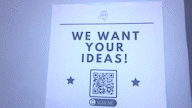 3 great big reasons to choose Vetter instead of a dusty old suggestion box:


Always available - Whether on a desktop, in the iPhone/Android apps, or through quickly scanning a QR code Vetter is ready to go. No tracking down the suggestion box and dusting off the cobwebs needed!


Stop ideas falling through the cracks - Vetter has built in tools to help you process, assign, delegate, discuss ideas. Our Idea Owner and Due Dates feature stop ideas falling through the cracks.


Transparency - A lack of transparency or visibility is one of the big negatives about traditional suggestion boxes. Employees put a suggestion in and have no idea what's going on with it - is it being reviewed, has it been rejected, is it still stuck in that darn box!?