Security & Vetter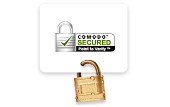 Data transmission
The information (ideas, comments, Status updates) you and your colleagues submit to us via our website is always sent over a secure connection using 256-bit SSL encryption (the same level of encryption used by leading banks). Our SSL Certificate is provided by Comodo SSL.
A secure platform - hosted by Amazon AWS
All user data is stored in Amazon Web Services' data centers, on the US East Coast. If you require hosting in the EU/UK, we can create a custom solution for this.
The services and data centers (ours is located in the USA), have multiple layers of operational and physical security to help ensure the integrity and safety of your data.
ISO 27001 certified
Validated as a Level 1 service provider under the Payment Card Industry (PCI) Data Security Standard (DSS)
Annual SOC 1 audits
24/7/365 monitoring, strict access controls, and on-site security.
The Vetter app has been designed to protect against common web attacks and our systems are kept up to date with the latest software versions and security patches.
Permissions
We know that you need to control who has access to your data. That's why we built in user permissions which allow you to control who has access to the different sections of your account.
GDPR
Find out about our GDPR-enabled online suggestion box here.
Storage and backups
In order to prevent unauthorized access or disclosure there are physical and technical safeguards to preserve the integrity and security of your personal information. For example, we back up your data (ideas, photos etc.) every 5 minutes, to help prevent data loss and aid in data recovery.
Server Upgrades
Our managed servers are kept current with all vulnerabilities and hosting configurations.
Portability
Your data is yours. If you ever want to stop using Vetter, you can first download all your data into an Excel CSV. You can do it yourself or we can do it for you.
Permanent Deletion
If you delete your Vetter account, all data is permanently removed from our servers.
Uptime
In the last 6 months of 2016, Vetter had 99.8% uptime, according to our 3d party monitoring tool Pingdom.
Thanks
Thanks to the following individuals, for responsibly disclosing a security vulnerability (now-fixed vulnerabilities) in Vetter:
Muhammad Masood
Zain Sabahat
Last updated: January 10, 2017
Questions about Security should be sent to support@getvetter.com